High interest rates, US bank failures and geopolitical divisions in Europe are reasons why the world economy is expected to grow less than 3% in 2023, the chief of the International Monetary Fund (IMF) has said.
The growth is down from 3.4% last year, and even further below the average of 3.8%, increasing the risk of hunger and global poverty.
"Poverty and hunger could further increase, a dangerous trend that was started by the COVID crisis," IMF chief Kristalina Georgieva said, when speaking at a Politico event on Thursday.
Around 15% of low-income countries are currently in debt, and another 45% face high debts, according to the fund.
Emerging from the COVID-19 pandemic, Ms Georgieva acknowledged that countries have been "resilient climbers" in the face of disrupted global trade and food supply, but added that the "path ahead – and especially the path back to robust growth – is rough and foggy".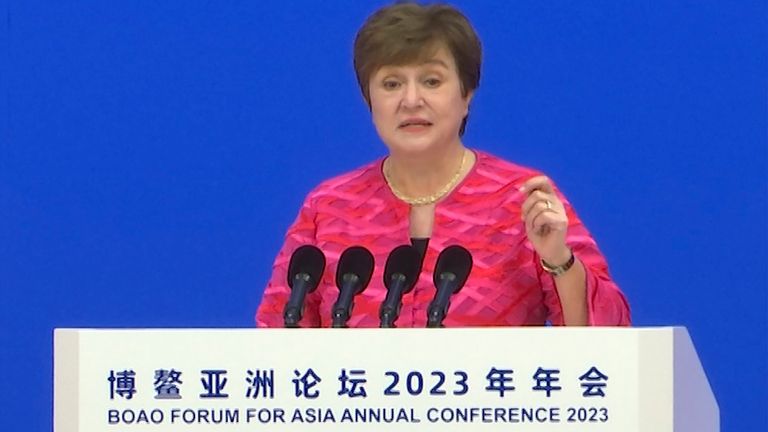 "Now is not the time to be complacent," she said. "We are in a more shock-prone world, and we have to be ready for it."
The IMF's economic projections have led more than 50 non-governmental organisations and labour unions to call for more funds to be allocated to low-income countries through an IMF international reserve asset known as Special Drawing Rights.
Read more on Sky News:
Ukraine war latest: China 'ready to call' Ukraine for first time
'Slight improvement' in Silvio Berlusconi's health condition
Emmanuel Macron urges Xi Jinping to bring Russia to negotiating table over Ukraine
These funds could be used for food medicine and to help countries "avoid destructive economic crises".
Different countries are also seeing stark differences on the possibility of recession, based on the report.
India and China were described by Ms Georgieva as being in a "bright spot", accounting for half of the global growth in 2023, whereas 90% of other developed countries, such as the US and those within the EU, are facing high inflation as they rethink trade relationships with China.
Follow the Daily podcast on Apple Podcasts, Google Podcasts, Spotify, Spreaker
Tensions with China accelerated after Russia's invasion of Ukraine in February 2022, with Chinese President Xi Jinping pledging a friendship to Russian President Vladimir Putin.