Thousands of jobs will be created in Scotland under a Labour proposal to create a publicly-owned clean energy company with its headquarters north of the border, the leader of the opposition has said.
Sir Keir Starmer initially set out his proposal to launch Great British Energy (GBN) during his party conference speech in Liverpool last year as part of a strategy to turn the UK into a clean energy superpower.
He added the company would be launched in the first year of a Labour government if his party wins the next general election.
Sir Keir has now revealed GBN's headquarters would be based in Scotland.
He is scheduled to expand on his party's vision to deliver cheaper zero-carbon energy by 2030 during a joint statement alongside Scottish Labour leader Anas Sarwar on Monday.
The two leaders are expected to outline how Labour's Green Prosperity Plan will deliver three key benefits for Scotland:
• Building on Scotland's energy and industrial history
• Doubling the number of jobs in low carbon sectors
• Creating a clean power system by 2030 saving Scottish households £8.4bn in that time
Please use Chrome browser for a more accessible video player
2:45
Controversy over UK net-zero goals
Sir Keir will say: "The route to making Britain a clean energy superpower, slashing energy bills and creating tens of thousands of quality jobs runs through Scotland.
"That is why GB Energy, our publicly-owned energy company, will be headquartered in Scotland, the heart of the British energy industry.
"I mean it when I say that our energy plans will be made in Scotland – cutting energy bills for Scottish families and delivering the jobs and investment in Scottish communities that for far too long have been let down by the SNP and Conservatives."
Read more politics news
Gove 'apologises to everyone' over partygate video
Nicola Sturgeon 'certain' she has done nothing wrong
Channel crossings rise despite PM's pledge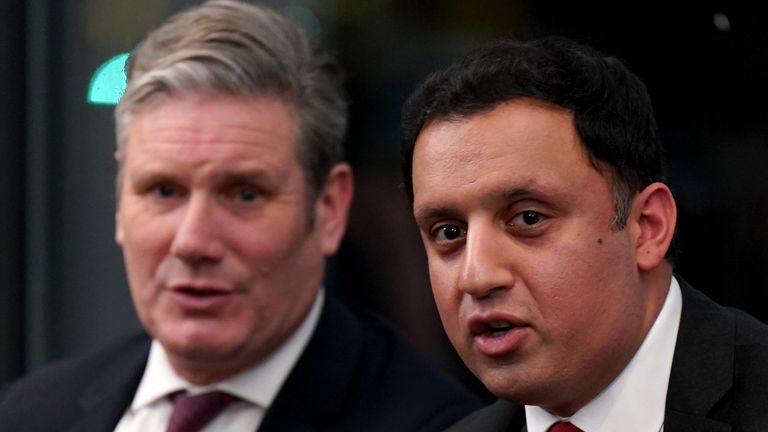 Mr Sarwar will say: "I am determined to leave our children and future generations a better planet than we have now.
"But to do this, we need to sweep out both of our bad governments and deliver urgent action, because we are running out of time.
"What we are announcing today is the boldest energy plan Scotland and the whole UK has seen in generations – delivering a clean energy revolution by 2030.
"It will deliver 50,000 clean power jobs for Scotland and lower bills for working people."
Click to subscribe to ClimateCast wherever you get your podcasts
SNP Energy Security and Net Zero spokesperson Alan Brown MP said: "Whether it's the Tories or the pro-Brexit Labour Party, Westminster politicians have used Scotland as an energy cash cow for decades, so the pretence that they suddenly want to deliver a strategy for Scotland now is laughable.
"In Scotland, the damage of Westminster control is already done. Keir Starmer's piecemeal proposal is too little, too late – and shows exactly why Scotland needs the full powers of independence."