Discount pub chain JD Wetherspoon is on course for a record year, the company has said, after its sales in Easter week were the highest they have ever been.
Sales in the current financial year are likely to reach record levels, Wetherspoon's said in its third quarter trading update.
Strong sales came thanks to the two recent bank holidays.
The May bank holiday was "exceptionally strong" and on 29 April the chain – known by many simply as "Spoons" – reported its busiest-ever Saturday.
The chairman of JD Wetherspoon, Tim Martin, said the results showed the company's "positive momentum" after a difficult time for the industry during the last few years affected by COVID-19.
Mr Martin, known as a backer of Brexit and a political campaigner on issues such as VAT, called on MPs to support pubs despite the challenges of inflation.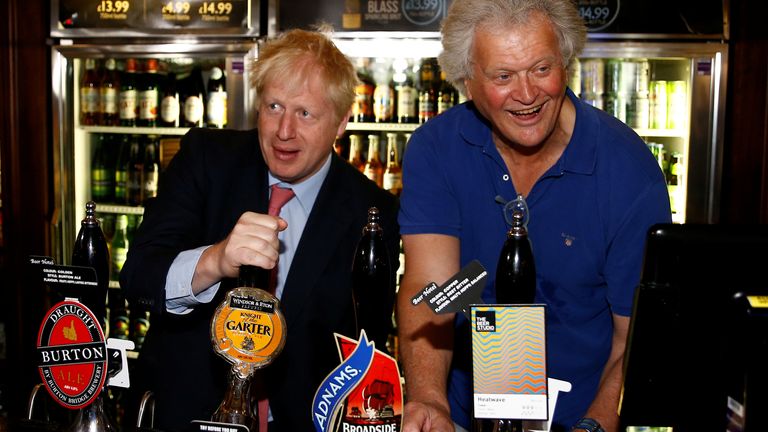 He said in the firm's financial update: "In order to bear down on inflation, political parties should encourage free enterprise, rather than a reliance on additional regulations.
"A lack of understanding, among some senior politicians, about the need to encourage a successful free market economy, presents a real threat to the future prosperity of the country.
"The company expects profits in the current financial year to be towards the top of market expectations."
Slow coronation and pub closures
Despite the bullish bank holiday sales, the coronation weekend was slower for Wetherspoon's.
A "noticeably quiet Saturday" was recorded by the chain on 6 May.
Overall the firm described its coronation weekend sales as "slightly less strong", which it suggested was due to supermarket sales being better than pubs, clubs and restaurants as a rainy day forced people inside to watch proceedings at home.
Read more business news:
Energy bills to drop by hundreds per year
Lidl recruiting 1,500 workers
Ryanair places record order for 300 planes
Staff numbers at the pub network were also up, according to the trading update.
The company said it employed 42,839 people at the end of the third quarter, an increase of 940 compared to the end of the pre-pandemic year of 2019.
Over the last three months, the number of Wetherspoon's pubs fell, however.
The company opened one new pub but sold, closed or surrendered to the landlord a total of 10 pubs.
It said most of the closing pubs were smaller and older or were reasonably close to another one of its venues.
The chain has been decreasing its number of venues throughout the current financial year.
So far three pubs have been opened while 21 have been sold, closed or surrendered to the landlord.
A total of 30 of its trading pubs remain on the market or are under offer.
Overall the company currently has a trading estate of 834 pubs, the trading update showed.